Acura Tire Pressure M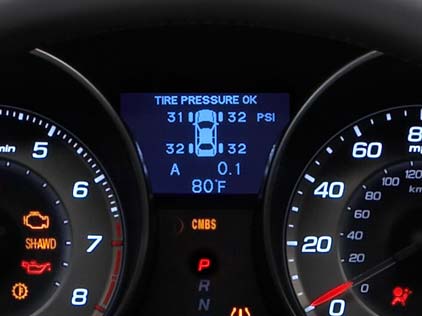 onitoring System (TPMS)  
What do I do when my TPMS light comes on during cold weather?
Does this really mean my tires are low?
Any time that the TPMS warning light comes ON, there is a possible low tire pressure condition. Tire pressure can drop due to cold conditions, and this drop in pressure may cause the TPMS light to come ON. As the tire warms up under normal driving conditions, the light may turn OFF. If the cold weather conditions cause the TPMS light to stay ON, check the tire pressure (when tires are cold) and inflate the tire to the proper pressure indicated on the door placard.
Since an under-inflated tire impedes handling and can be a safety hazard, the Tire Pressure Monitoring System (TPMS) uses pressure sensors mounted in each wheel that send readings to a central electronic control unit. The system then evaluates whether the pressure is in an acceptable range.
If a reading is significantly below the recommended level, the vehicle will alert the driver through the Multi-Information Display (MID) located on the instrument panel. 
The problem tire will be indicated, along with the individual pressure for all four tires. 
The pressure display can be accessed anytime, using the MID controls on the steering wheel. 
As useful as TMPS is, it is still recommended that you manually check your tires on a regular basis. 
If you have additional questions or are in need of assistance with your TPMS please call our service department to speak with one of our advisors: 888-417-8344.